About the Film Library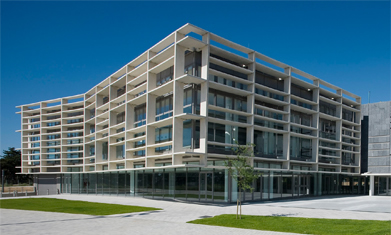 Navarra Library's building exterior
The Navarra Film Library is part of the Navarra Library in the Mendebaldea area, in Pamplona.
The Film Library's mission is to recover, store, preserve, do research into, and promote Navarra-related films and audiovisual productions, as well as materials, equipment, and other useful elements for the study of films and audiovisual works, especially those produced in Navarra.
This mission involves collecting and keeping film and audiovisual documents, as well as those technical materials whose conservation has a cultural or historical value, promoting the audiovisual culture in special programmes, competitions, exhibitions, or festivals, and taking part in those projects that may lead to the promotion of films and audiovisual productions, in particular, those shot in Navarra or made by Navarra citizens.
One of Film Library's first tasks will be to make an inventory of the film collection, with the aim of assessing its quality, scope, state of conservation, and relevance to the contemporary film scene. After making the inventory, we will be able to take action to recover and sort out our film heritage in an adequate space, equipped to make such heritage available to scholars, researchers, and the general public.
A film collection already exists, comprising films donated by individuals or bought, sponsored, or subsidised by the Government of Navarra. Over the past few years, we have received several film donations and cessions, including the collections belonging to Amalio Salaverri, Alberto Zozaya, Alberto Cañada, Antonio José Ruiz, Adrián Martínez "Hamsi", Golem, Saide, Lux Film Club, Jesús Baztán, and Miguel Urabayen.
A major challenge to be faced by the Film Library in its early stages is the search of audiovisual materials linked to our community: films or videos shot or produced in Navarra, productions featuring directors, scriptwriters, actors, or technical staff born in Navarra, and films about the region, its history, culture, or characters. We will also focus on amateur or home movies, encouraging their owners to donate them so that they can be catalogued, preserved, and screened.
Goals
Recovering, preserving, restoring, and organising the Navarra film heritage, which includes all productions featuring an artist or technician from Navarra as director, filmmaker, producer, actor, scriptwriter, musician, photographer, cameraman, make-up artist, lighting or sound technician, irrespective of formats, media, or genres; all the films shot or produced in Navarra; and all the films and videos making reference to Navarra's history, ethnography and culture, landscapes, customs and traditions, industrial development, etc.
To accomplish this goal, a special area has been set up for film archive and conservation.
Promoting the culture of the moving image from the universal to the particular through special film programmes or sessions and other activities, focusing on Navarra's film heritage in particular.
These activities will be managed by the Promotion Area.
Areas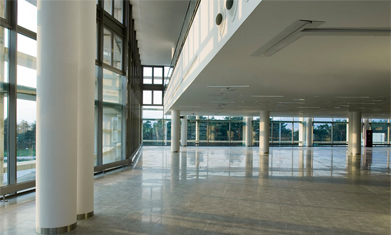 Navarra Library's building interior
To achieve the goals above, the Navarra Film Library shall have two working areas:
Film archive, research, and conservation
Film promotion and public activities

Archives, Research, and Conservation of the Navarra Film Heritage
Archives and catalogues: Search and recovery of films, reception of film donations, archives, and audiovisual materials (films in celluloid or video, film equipment, posters, scripts, scores, etc.); classification of the audiovisual materials in the Navarra film heritage through the assessment, follow-up, and protection of the materials entrusted by individuals and organisations, with the aim of avoiding deterioration and irretrievable losses.
The Film Library seeks to keep at least one copy of all film and video productions from Navarra, as well as those featuring directors, scriptwriters, actors, or technical staff from Navarra, those making reference to Navarra, and those shot in the region.
Preservation and restoration: The Film Library shall be the place where delicate materials can be stored and deteriorated films can be restored.
Access to the collection: Scholars and the general public will be able to view and study the materials in the Library's collection, provided that this does not threaten originals, under the terms of use established by the Library's authorities.
Film borrowing: Users can borrow some of the Library's materials to show or screen them, but they must get the authorisation of the owners of communication rights, since the Library shall be the owner or trustee of those media preserved or stored in it only.
Book library: The Film Library will also have film-related texts and books (scripts, graphic materials, production, distribution, or screening documents, and so on), giving users access to specialised bibliography (reference works, journals, papers, etc.).
Research: As it consolidates itself, the Film Library shall offer grants and funds for scholars to carry out film-related research.
Publications: The Film Library will publish texts on films and videos, especially about the history of film and audiovisual creation in Navarra.
Website: Users will be able to access the Film Library's services online. To this end, a website will be launched.

Film Promotion and Public Activities
This area plays a key role in the functioning of the Film Library. Its tasks include:
Making the Library's collection available to citizens in screening programmes for the general public.
Planning film sessions that lead to a better understanding of film and audiovisual culture history.
Carrying out such activities as exhibitions, lectures, workshops, seminars, and meetings to discuss films and audiovisual productions, thus encouraging the understanding of the film and audiovisual culture.
Taking part in the initiatives implemented in Navarra to foster and spread the love of films.